IES is always provide the best services and information to become the most trusted partner in Indonesia. In delivering high-quality to our program sponsors and partners showed our commitment to meet the needs of overseas partners.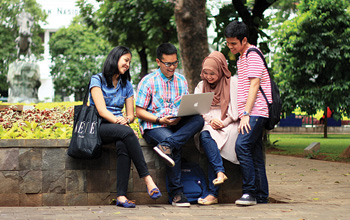 Our program or services for Overseas Partners (Foreign Institutions)
IES Higher Education Fair
Our Fair also include workshops for school consular, seminar for students and parents, school visits, promo educational tours, as well as more targeted and specific activities.
Heel to Arrange Foreign Institution Business Including Accommodation, Advertisement, School Visit, and Other Services by Request

Assist Foreign Institutions to Liaise with Local Media
As per your request we can assist you to liaise with local media for event announcement purpose.
Test Proctoring and Administration Services
Test proctoring and administration services are also available if you need to make assessments in Indonesia but have limited credible and acceptable resources.
Provide Interpreter Services
For your convenience and comfortable, during your visit you may request English—Indonesia VV Interpreter Service.
Bridging Foreign and Local Institutions to Help them in Building their Network
Our Program or Services to Students and Local Institutions
Standardized Test Preparation
Most colleges and universities require standardized test for admission, especially for students making the transition from secondary to post secondary education. You may wonder, why they are so important. The test provide uniform information about students' aptitude and knowledge base in a variety of subject areas. These tests: GRE, GMAT, TOEFL®, SAT, IELTS is one of the requirement by foreign institutions.
TOEFL® Institutional Testing Program (TOEFL® ITP)
The TOEFL ITP tests are previously administered TOEFL® tests that can be used for placement, progress, evaluation, apply scholarships, and other lower-stakes situations.
Academic Writing/Essay/Statement of Purpose/Study Objective Course
Overseas Study Preparation and Arrangement
In relation to pursuing future educational opportunities, we provide prospective student all information necessary and extend related services. We ensure that student candidates do things on the right track provide solutions in case of problems.
Translation Documents
In facilitating academic credential review requirements of institution abroad, we provide accurate and comprehensive translation into requested language.
Online Test Registration
Many students have difficulty in registering for international tests on line. Don't worry! we will provide you a way out. Tell us and we will help you.
Test Proctoring and Administration
We provide credible an acceptable place for institution who provide distance learning program and need to make assessments in Indonesia but have limited resources for credible and acceptable location, we are more than qualified to assist you in meeting your needs.
VISA Administration
We understand that to go through visa procedure consumes time and oftentimes confusing. Come to us and save your time! We provide visa services for most of the countries abroad.