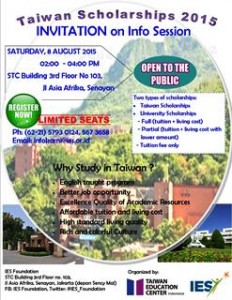 TAIWAN SCHOLARSHIPS for Indonesian students.
There are two kinds of scholarship that you could try:
– Taiwan Scholarship;
– University Scholarship.  Universities in Taiwan offer three kinds of scholarships:
full scholarship (covering both tuition fees and living costs)
partial scholarship (also covering both tuition fees and living costs with lower amount than full scholarship)
tuition scholarship (only covering the tuition costs).
The purpose of Taiwan Scholarship Program is to encourage outstanding international students to undertake degree program in Taiwan. The application period ends every March 31.
Duration Award:
a. Undergraduate program: maximum 4 years.
b. Master's program: maximum 2 years.
c. Doctoral program: maximum 4 years.
d. Maximum Duration of Combination of Awards : 5 years
The requirements for university scholarships:
Diploma (ijazah)
Transcript
English proficiency certificate (TOEFL/IELTS)
Study/research plan
Recommendation letters
Any other required documents. All documents submitted must be in English.
There are no minimum requirements for GPA (IPK) or TOEFL/IELTS. The higher the scores, the higher the chances to get the full scholarship and you can also try to apply more than two universities.
Do you want to know more about this scholarship? Attend our info session
Day/Date:        Saturday, 8 August 2015
Time:               02:00 – 04:00 PM
Venue:             STC Building 3rd Floor no 103, Jl Asia Afrika, Senayan, Jakarta
Seat is limited. Register now by sending your name, email, and cell phone number to infokami@ies.or.id or contact us at (021) 5793 0124, 567 3658.