About TOEFL ITP:
Most colleges and universities require standardized test for admission, especially for students making the transition from secondary to post secondary education. You may wonder, why they are so important. These tests provide uniform information about students' aptitude and knowledge base in a variety of subject areas.
Colleges and universities require some measurement of language ability for all international applicants. The most commonly used exam is the TOEFL (Test of English as a Foreign Language) offered by ETS (Educational Testing Service).
Colleges and universities abroad use these exams in two ways during the admission process. First, most institutions set a minimum TOEFL-score so they can be assured your English proficiency will allow you to succeed academically. Second, the TOEFL score helps a college or university know where to place you in your course work. Different levels of English proficiency, as measured by the TOEFL test, may indicate the need to enroll in different levels of English language courses or college-level English composition course.
TOEFL ITP Facts: Evaluation: English language proficiency in Listening, Reading and Structure. Duration: About two and half hours Score Validity: Two (2) years Maximum Score: 677 Result: 10 (ten) days after test
Test Location:
IES BALIKPAPAN Komp. Ruko Little China Blok AB 5 No 30 , Balikpapan Baru 76114
Schedule Test:
Saturday, 09.00 AM – 12.00 PM 
Available Test Dates:
Saturday, June 22, 2019
Saturday, June 29, 2019
Information about testing in BALIKPAPAN, please contact:
(+62) 811 593 434 / (0542) 851 2675 / 0811 5998 837
PLEASE REGISTER HERE FOR BALIKPAPAN TEST TAKERS
Information about testing fee and payment will be emailed to you after you register online. Bring your CONFIRMATION NUMBER, payment receipt and  a valid ID Card (KTP/Passport/SIM) when you take the TOEFL ITP TEST
Schedule for Taking TOEFL ITP Test Result at IES Office BALIKPAPAN:
Monday – Friday (01.00 PM – 04.00 PM) Saturday ( 10.30 AM – 12.30 PM) Bring your CONFIRMATION NUMBER or a valid ID Card (KTP/Passport/SIM) when you take the TOEFL ITP test result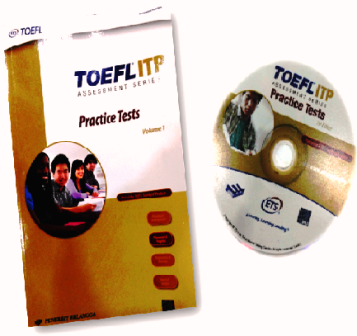 Need to practice your TOEFL ITP competency before taking the test? This TOEFL ITP Assessment Series Practice Tests Book+CD can be one your solutions. Please contact us at: 08115998837 / 0811593434/ 0542 861280  for the availability and how to get it.